Company
Relined Guttering for Primary School in Norwich
18/08/2023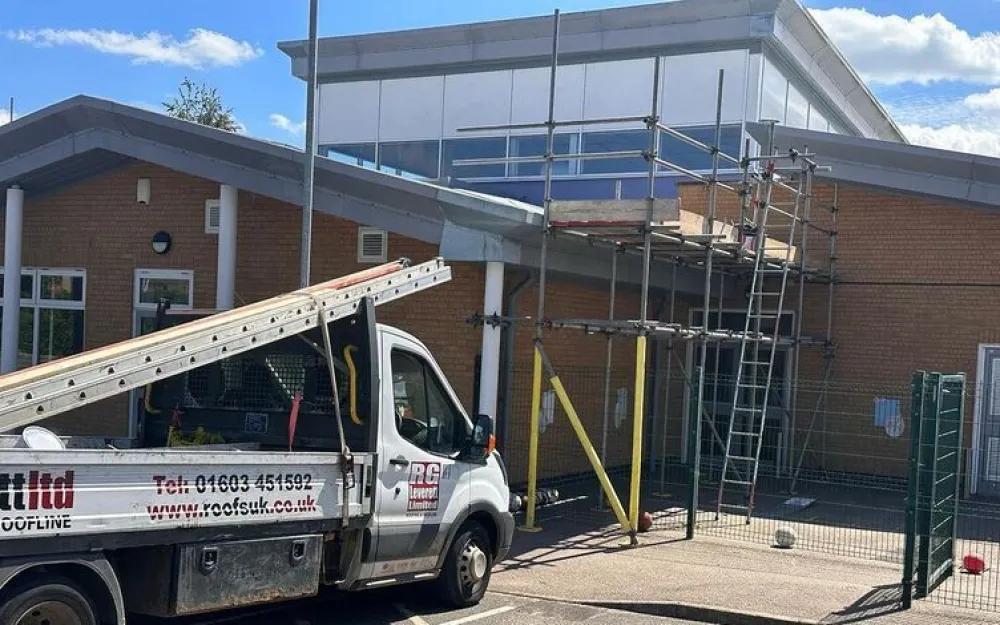 It won't come as a surprise that the school holidays are a busy period for contractors, with schools seeking to get maintenance work completed whilst the children are away. With that in mind, we were recently approached by Arrow Builders to support relining some guttering at Bluebell Primary School in Norwich.
Now the upkeep of your guttering may seem like a relatively trivial matter. However, it is essential when it comes to preventing a wide range of potentially more serious and costly issues further down the line.
Here are just a few problems that can arise from poorly maintained guttering:
Water Damage: The job of your guttering is to channel rainwater away from the foundations, walls and other vulnerable areas of your property's structure. If your guttering becomes misaligned, leaks or is blocked, water can cause damage, including foundation cracks and mould growth.
Protect Foundations: If rainwater is not correctly channelled away, it can end up pooling around the foundations of your property. Over time this can result in soil erosion, foundation settling and structural damage.
Protect Fascias and Soffits: Correctly aligned guttering will help to protect your fascias and soffits from overflowing rainwater, which in turn helps to protect other elements of your property's roof structure.
Ice Dams: During colder months, poorly maintained guttering can lead to the formation of ice dams. This causes water to back up and infiltrate the roof, potentially resulting in leaks and internal water damage.
For the project at Bluebell Primary, we used Polyroof's excellent Protec liquid roofing system to reline old guttering. Polyroof Protec is a really robust liquid roofing system. The system can be applied to any substrate, with two layers applied with a thick matt reinforcement. It is incredibly versatile and means that large industrial gutters, such as this school, don't need to be replaced if they leak. Applying Polytec Protec to the gutter area can prolong their life for at least another 20 years.
What's more, this system includes a 20 year warranty, giving the school extra peace of mind.
If you would like us to take a look at any aspect of your roofline, simply get in touch to arrange a free, no obligation survey of your property. You call us on 01603 418818 or drop us an email to enquiries@roofsuk.co.uk and we'll be happy to organise a convenient day and time for you.
You can also see further examples of our work by checking out our Instagram page.