Company
Restoration of Shop Roof in Norwich Conservation Area
7th September 2018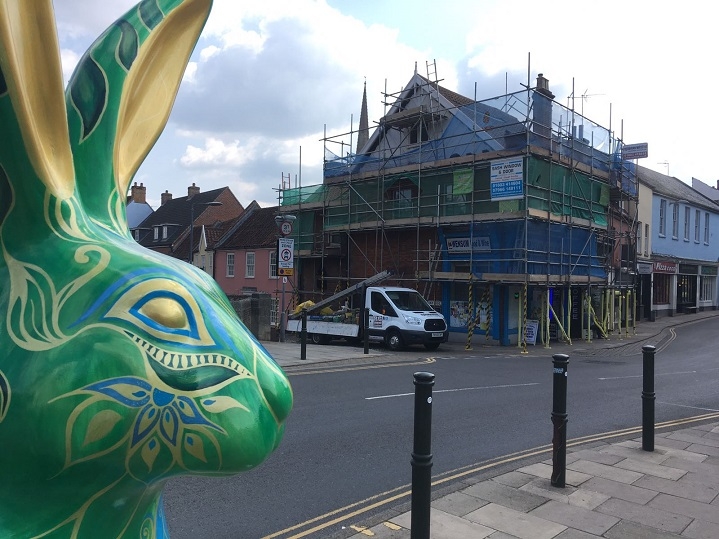 On the corner of the picturesque Quayside and busy Wensum Street, our team have been restoring the pitched roof of a shop back to its former glory. The nineteenth century building has been undergoing a full refurbishment, with major works needed to ensure the building is protected from the elements.
As is often the case with older properties in the city centre, the roof isn't a simple pitch but has complicated joins and irregular angles as it joins with several other roofs built around it over the past 250 years.
We've been contracted by a local property management company who are refurbishing the premises to re-roof the existing roof and fit a new roof light into the pitched roof. This job has entailed us removing the existing roof covering and fitting a new modern breather membrane, and fitting new treated timber battens. We've also replaced the old lead valleys with new code 5 lead valleys and new lead work to the chimney, protecting the joints and the new membrane underneath.
Once the work replacing the battens and membrane was complete, we set to re-fitting the existing tiles. Any damaged tiles or tiles not suitable for use have been replaced with good quality reclaimed tiles, chosen to match perfectly to ensure a seamless appearance. As the building is in a conservation area and many of the neighbouring properties are listed, it's paramount that the property retains its original features and the roof doesn't look out of place.
Our highly skilled and professional team are experienced in all manner of properties and are fully accredited for commercial sites of all sizes, get in touch today for a free quote!