Company
Flat Roof Replacement at Felthorpe Hall
17th June 2021
Felthorpe Hall, 8 miles north of Norwich is a grand Georgian building that has been extended and well looked after in the intervening decades - even serving as a red cross barracks during both world wars. The owners of this house have a big job in hand maintaining the building and its gardens: 125 acres of glorious Norfolk countryside! What a glorious view we had from the hall's rooftop.
Kitchen Roof Refurbishment
The kitchens are currently being developed and we were asked to replace the flat roof over the kitchen area. The existing flat roof had air conditioning units on it, so these had to be disconnected and removed from the roof first by refrigeration specialists Secker and Sons.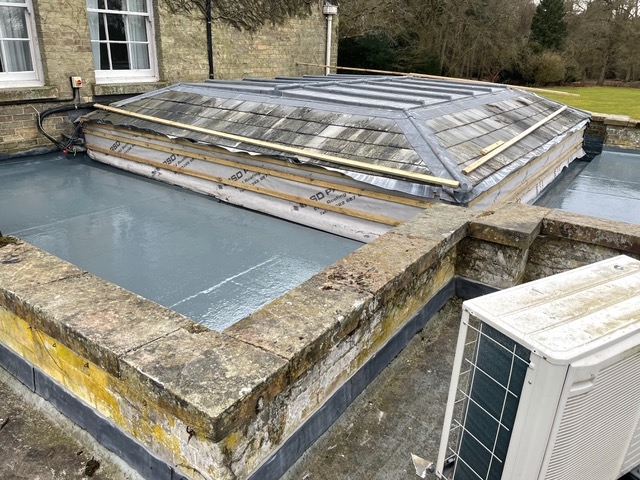 With these old units out of the way, we were able to install brand new 18mm OSB3 tongue and groove structural sterling boards to the roof along with a high performance GRP fibreglass roofing system to the flat roof area.
Slate Replacement
We also replaced the damaged slates to the surrounding roof with new matching slates.
Our teams of skilled roofing contractors travel throughout Norfolk and Suffolk installing high quality roofs on domestic, commercial and public buildings. Doesn't matter to us if you live in a bungalow or a castle, if you need a new roof, get in touch. Call us on 01603 418818 or email enquiries@roofsuk.co.uk
Follow us on Facebook and Twitter for regular images of our rooftop work.