Company
New GRP Roof for Norwich Council Shed Block
07/11/2023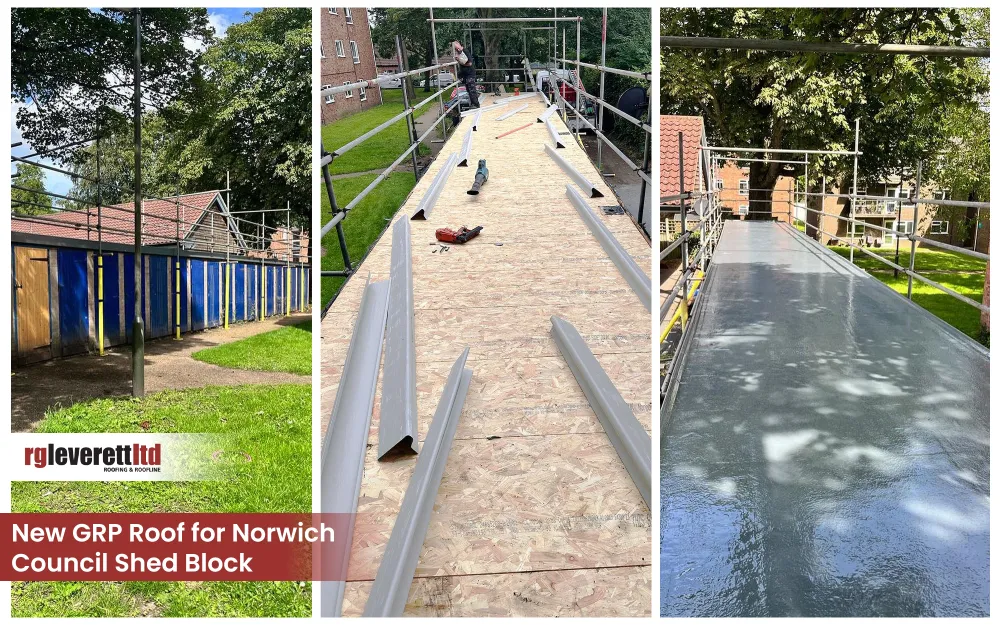 Our installation team has been working in the beautiful, historic city of Norwich, on a new GRP roof instalment for a Council-owned block of sheds in the local area.
A GRP (glass-reinforced plastic) roof is a combination of polyester resin and solid strands of glass fibre. It is laid in a liquid form where it solidifies to a hardened surface across the roof. This makes it suitable for both domestic and commercial properties, proving to be especially popular for large scale installations.
GRP roofing is in demand for good reason, possessing plenty of benefits, naming just a few here:
Lightweight: Being formed from glass fibres, GRP is an incredibly lightweight roofing system. Consequently the infrastructure below endures less pressure.
Durability: GRP is remarkably weather resistant, ordinarily lasting for decades.
Firm single surface: Laid in a liquid state then solidifying, GRP covers the roof in one even surface. Therefore, you won't find any areas of weakness in your roof between joins.
Aesthetics: We can match the colour of your building with our countless colour options. These roofs are practical and eye-pleasing.
For these reasons, GRP roofing is well suited for shed blocks such as this one and an incredibly popular choice. Not only are these roofs cost effective, but they also provide reliability being a durable and waterproof system. For further assurance, at RG Leverett we offer a 25 year guarantee when we install a GRP roof for you.
If you would like to discuss a GRP roof installation or replacement for your property, get in touch and speak with one of our experienced roofing professionals. You can call us on 01603 418818 or drop us an email to enquiries@roofsuk.co.uk and we'll be happy to organise a convenient day and time to visit your property and conduct a free, no obligation survey.
You can also keep up to date with all our recent work by checking out our Instagram page.