An Introduction to Liquid Roofing
Flat Roofs, Company
Posted 52 week(s) ago
Here at RG Leverett, we are a close family company that has been in the roofing industry for over three decades now. In this time, we have worked on a wide range of roofs and with an even wider range of problems and issues. When it comes to waterproofing and maintaining your roof there are many options you can take. In this blog we will be talking about the option that seems to go unknown by most people, liquid roofing.

What is liquid roofing?
Liquid roofing systems are cold applied roofing systems that can be applied to both warm and cold roofs. They are designed to fit to any seams, joints, fixings and welds in roofs. The liquid roof can be applied over the top of other existing parts of the roof such as insulation. The liquid in the roofing usually consists of either polyester, natural bitumen or polyurethane. These materials allow the roof to withstand extreme weather conditions, as well as the test of time. Last year, we replaced the flat roof of a church, which had had its lead stolen, with a liquid roofing system.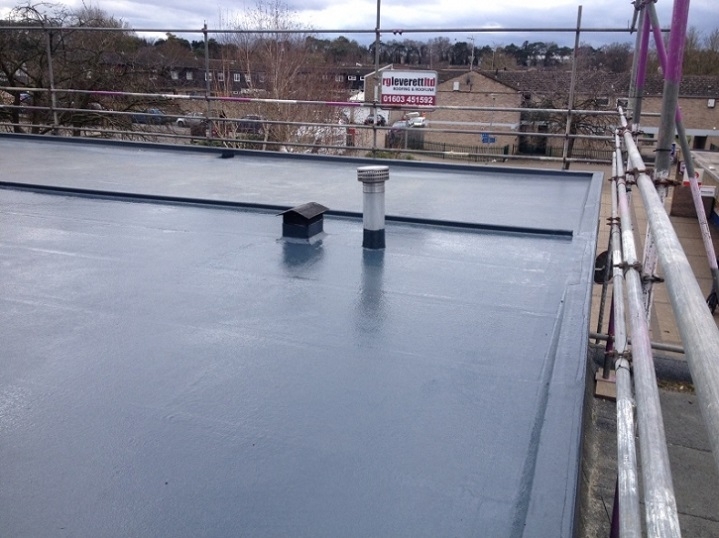 Which type of roof is liquid roofing best for and what are the benefits?
Liquid roofing is suitable for almost all types of roofs including pitched roofs, flat roofs and domed roofs. Liquid roofing also provides roofs with lots of benefits that many people may not be aware of:
Seamless waterproofing – Liquid roofing is the only roofing membrane that can provide this feature, due to the fact that there are no joins involved in the process. No joins mean there are fewer weak points for water to force its way through as the roof ages, giving the roof complete waterproofing.

High elasticity and strength – Liquid roofs are capable of withstanding extreme weather conditions without splitting or tearing.

Easy to maintain – Liquid roofs require very little maintenance or attention and are also extremely unlikely to get damaged.

Quickly applied – Liquid roofing systems are cold applied systems which can be applied very quickly, they also dry quickly once in place.

Speak to the specialists
If not applied properly, liquid roofing can create problems. Poorly installed liquid roofs can cause more damage to already damaged roofs, wasting both your money and your time. It is vital you contact roofing specialists, and get expert opinions and judgement before having the work done. Here at RG Leverett, we are able to inform you about liquid roofing and install your new roof. Click here, to find our accreditations and licences.
Need more information on liquid roofing, or are interested in having one installed on your property? Contact us, call us on 01603 418818 or email us on enquiries@roofsuk.co.uk.
Follow us on Facebook and Twitter for more