Company
Spanish Slate Roof and Korniche Roof Lantern Installation in Dereham
13/04/2023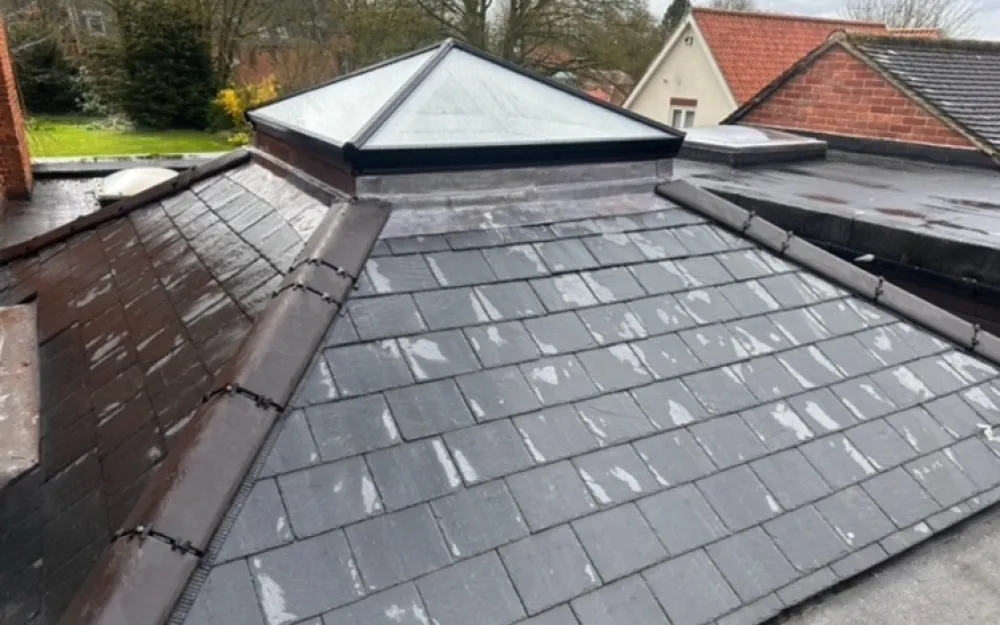 It has been a busy few weeks and our team has been back on the road once again. This time we were called to Dereham in Norfolk, where we were tasked with the job of carrying out a slate roof replacement at the offices of Spire Solicitors in the town.
As always, the first task was to carry out the removal of the existing roof covering and on this occasion it included the safe removal and disposal of an old, damaged roof light. In their place we fitted new treated timber battens and breather membrane.
The tiles we used for this job were Spanish slates. These tiles are renowned for their high quality, durability, fire resistance and natural beauty. This has made them a popular choice on construction projects for centuries.
The centrepiece of this project was the new Korniche roof lantern. Our team are highly experienced at installing skylights of this kind and they offer a range of benefits, including:
Increased natural light: If there are rooms in your property which receive a limited amount of sunlight, korniche roof lanterns are a fantastic way to flood the room with natural light and create brighter and more welcoming indoor spaces.
Improved energy efficiency: Thanks to their thermally efficient frames and low-emissivity glazing, korniche roof lanterns will ensure that heat is retained during the colder months, whilst reflecting heat away during the summer.
Durability: Manufactured from high-quality aluminium and toughened glass, korniche lanterns are incredibly strong and are designed to withstand even the toughest winter conditions.
Variety of design options: These lanterns can be customised with a choice of sizes, colours and glazing options, allowing you to create a bespoke design that perfectly complements the overall look of your property.
We'll think you'll all agree that this lantern looks absolutely fantastic and perfectly caps this roof replacement!
If you're looking for help with the replacement of your roof, our experienced team of roofers are always on hand to offer their expert advice. Simply give us a call on 01603 418818 or drop us an email to enquiries@roofsuk.co.uk and we'll be happy to organise a convenient time to visit and carry out a free, no obligation, survey of your roof.
You can also keep up to date with all our latest work by checking out our Instagram page.